Trusted & Certified Audi Repair & Service Technicians In Chantilly, VA
Since the 19th century, Audi has produced a history of world-class automobiles. Year after year, the Audi brand has pushed the envelope of technology within its designs. With each new technological advance comes the need for experienced and certified technicians to service and maintain Audi vehicles to keep their superior performance. My Dad's Automotive offers the knowledge and experience to keep your Audi running in top condition.
Our full-service center and repair facility uses the latest technology available to maintain your vehicle properly. If you are an Audi owner in the Chantilly, VA area, trust us at Dad's Automotive to give your Audi superior service.
Scheduled Services Offered for Audi Owners
The Audi Service system is based on two necessary schedules, a 10,000-mile basic program, and a 20,000-mile comprehensive program. Scheduled Services include:
Oil Changes
Tire Rotations
Brake System Inspection
Cooling System Check
Leakage Check for Drivetrain
Inspection of Suspension
Cleaning of the Plenum
Electrical and Lighting Checks
Safety Belt Checks
Safety Checks
Other Multi-Point Inspections
Audi Repair Services
Outside of scheduled maintenance for your Audi, we also provide exceptional repair services, including:
Tune-Ups to Your Audi's Ignition System
Brake Repair
Fluid Leak Repair
Wheel Alignments
Battery Replacement
Electrical System Repairs
Exhaust System Overhaul
Water Pump and Cooling System Repair
Fuel System Restoration
Transmission and Engine Repair
Suspension Fixes
Alternator Replacement
Variety of other Repairs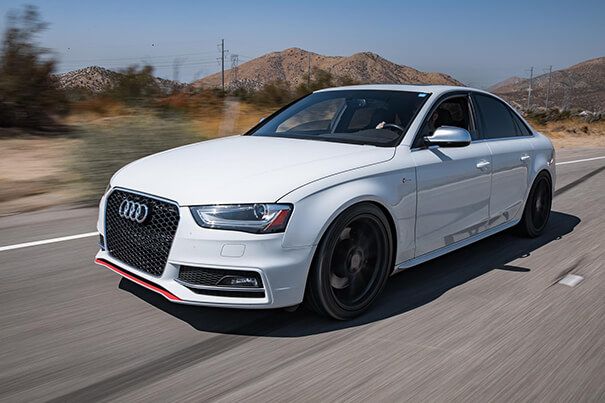 These are only a few of the services and repairs offered at My Dad's Automotive. We are a full-service shop for all of your Audi's needs.
Superior Knowledge
Our team of technicians are not only some of the most experienced in the business, they are also ASE certified. This means they have taken and passed a series of testing and have the required experience to maintain and repair your Audi. The highly-trained technicians at My Dad's Automotive continuously learn new techniques as technology changes within the automotive industry, so there is no job too complicated for us to take on.
Use Our Expertise
Your Audi is a modern technological high-performance machine. It certainly requires servicing that meets the demands of the technology. Located in Chantilly, My Dad's Automotive also helps drivers from surrounding areas like:
Whether for scheduled service or for repairs bring your Audi to the team that understands your Audi's needs. Contact us today to set up a service schedule for your Audi.